Preclinical R&D Lab Design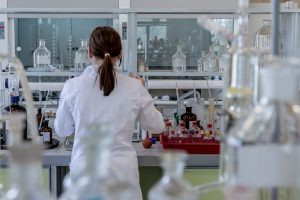 The design and layout of laboratories have a significant impact on overall lab processes and communications. A good lab design allows laboratory personnel conducts their activities in the most efficient and safe manner.
At Zyirn, we help our clients establish or renovate lab spaces for Preclinical Drug Discovery, DMPK, Pharmacology, Safety Pharmacology, and Toxicology Labs in accordance with strict laboratory guidelines. We take care of all aspects of designing the facilities through the process of setting up and operationalizing the labs. Our experts have 60+ years of combined experience in the design, development, modification, and validation of labs.
We help our clients in the following ways:
We provide a review for laboratory design:  Every laboratory is unique in terms of compliance standards, technical and process flow requirements. If you need expert guidance on proper and safe laboratory design do contact us. We provide high-quality consulting for lab design reviews.
Gap Analysis:   If you are shifting labs or have labs where you cannot change the physical layouts to meet your requirements, allow us to perform the gap analysis.  We will understand your grievances and provide a solution to your problem. How do we do that? Based on our analysis and audit, we will suggest changes in processes without doing any structural changes. Contact us and allow us to help you address your problem.
Lab Design, Modification, and Validation Services:   Every lab design is based on the core factors of flexibility, expandability, sustainability, safety, and utility that are considered throughout the process of design and validation. Laboratories must be flexible and adaptable to support the ever-changing research requirements. All high-performance labs are designed to sustain optimum performance by mitigating the impacts from environmental changes, human resources, performance and validity of equipment, instruments ensuring health and safety at all times. Do talk to us for our validation services with respect to instrument validation, computer, and computerized system validation, and facility validation. Our experts will guide you with respect to validation at every step starting from design qualification to installation qualification to operational and performance qualification and calibration for all sorts of instruments and computerized systems.
Contact us today and let us help you.